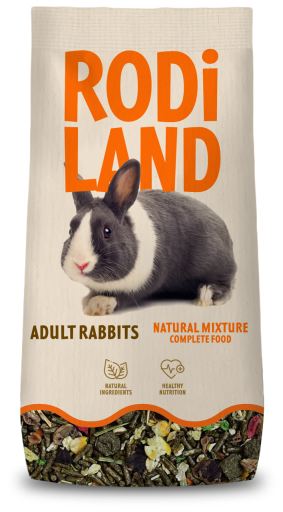 Description
Mixture for adult rabbits Rodiland
Rodiland Rabbit Mix provides a complete and balanced diet for your rabbit.
Recipe made from natural ingredients of the highest quality and with a great variety of seeds and cereals.
It also contains very necessary ingredients in their diet such as oilseeds which are their main source of energy, Carob which gives them an intense flavor and a great aroma, Oats rich in vitamin E and Barley, an essential ingredient for its high content in fiber, folic acid, vitamins, minerals and calcium.
Thanks to its variety of dehydrated ingredients your rabbit will enjoy every bite as it will provide a different sensation and flavor.
BENEFITS:
Complete and balanced diet
Natural ingredients
High fiber content
High palatability
No added sugars
HOW TO USE: Serve in the feeder as is, and always keep clean, fresh water available for your guinea pigs or guinea pig rabbits.
Ingredients
Mixture for adult rabbits Rodiland
Ingredients: Rabow, Garrofo, extruded for rodents, barley, alfalfa stems, inflated corn, Inflated wheat Analytical components: In 100 g of product: Gross fiber 9.8 g, gross protein, 14.7 g, gross fat 3.7 g, Ash 7.4 g, Carbohydrates 63.5 g. CA 1.4 g minerals, cu 13 mg / kg, faith 534 mg / kg, SE 0,57 mg / kg, zn 135 mg / kg Vitamin: VIT at 85.6 ?g, Vit D3
Features
Mixture for adult rabbits Rodiland
High fibre content

Natural ingredients

No added sugars

Complete and balanced diet
Reference

8436579244156

Weight

800 GR, 3 Kg, 3,8 kg

Ingredients

With seeds, With nuts, With herbs

Format

Mixture

Nutritional Conditions

Natural

Age

Adult, Senior

Special Cares

, ,

Small Animal Type

Rabbits

Brand

Rodiland
Customer Reviews
Mixture for adult rabbits Rodiland