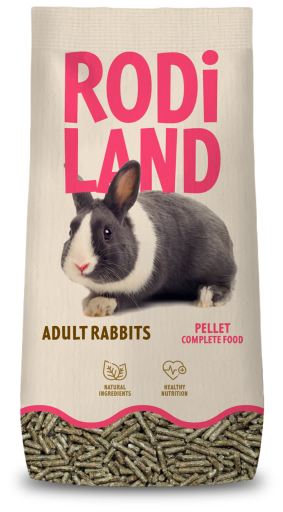 Description
Adult Rabbits Pellet Complete Food Rodiland
Pellets are an important and complementary part of the diet of our adult rabbits. This type of food is usually very popular with rabbits and is indicative of a rabbit's appetite. They also provide a good supply of vitamins and nutrients suitable for them.

Rodiland Adult Rabbit Pellets contain a mixture of cold-pressed ingredients that make the food into this particular shape and hardness. The pellets that we present contain mainly Alfalfa Hay, followed by Wheat Bran, which will provide vitamin E. In this composition we can also find Seeds and Oleaginous Fruits that will provide all the nutrients that the little one needs. Suitable for rabbits from 9 months of age.



BENEFITS:

- Contains no ingredients of animal origin.
- High fibre content. Low percentage of fat.
- Optimum levels of calciumComplete and natural food.
- No added sugars.
- Made with non-genetically modified ingredients.


HOW TO USE: Place the feed in the trough and leave it freely available for the rabbits. Clean, fresh water should always be available. Note: Keep the container tightly closed in a cool, dry place, away from the ground and out of direct sunlight.


Ingredients
Adult Rabbits Pellet Complete Food Rodiland
Ingredients: Dried alfalfa grass, wheat bran, cereals and cereal byproducts, seeds and fruits Oleaginous and derived products, calcium carbonate, sunflower oil, salt, monodicalcic phosphate. Nutritionalistics: Analytical Components: Gross Protein 16,10%, Brunge Fiber 15.10%, oily and gross fats 3.64%, gross ash 8.30%, sodium 0.20%, calcium 1.02%, phosphorus 0.51. Additives Nutritions: Vitamin A (3A672) 10,000 U.i., Vitamin D3 (3A671) 2,000 U.i., Vitamin E (Alfatocoferol) (3A700) 11.00 MGR / KG, Vitamin K3 (3A710) 0.80 MGR / KG, Vitamin B1 (3A820) 0.80 MGR / KG, Vitamin B2 2.40 MGR / KG, Vitamin B6 (3A831) 1.10 MGR / KG. Vitamin B12 0,015 MGR / KG, Niacin (3A314) 16,00 MGR / KG, ZINC (3B603) 71.40 MGR / KG, MANGANESO (3B502) 24.80 MGR / KG, Iron (3B104) 30.00 MGR / KG, Copper (Sul Cupric Pentah.) (E4) 10.00 MGR / KG, iodine (EB202) 0.945 MGR / KG. Form of use: Place the food in the feeder and leave freely disposal of rabbits. They must count Always with clean and fresh water. Note: Keep the container tightly closed in a cool and dry place, isolated from the floor and Trying to be out of the sun's rays.
Features
Adult Rabbits Pellet Complete Food Rodiland
100% Natural

Non-GMO ingredients

High fibre content

Supports your dental health
Reference

8436579243838

Weight

800 GR, 3 Kg, 3,8 kg

Format

Pellets

Ingredients

With seeds, With nuts, With herbs

Nutritional Conditions

Natural

Age

Adult, Senior

Special Cares

, ,

Small Animal Type

Rabbits

Brand

Rodiland
Customer Reviews
Adult Rabbits Pellet Complete Food Rodiland