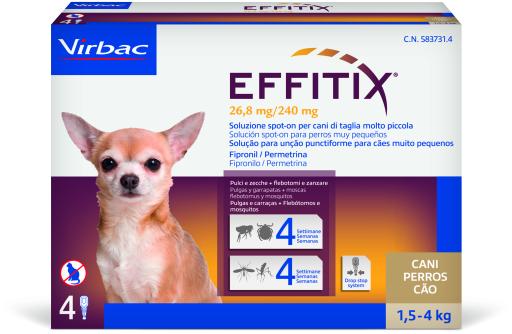 customer_also_bought_ani
Traveness

Traveness
Description
Effitix Spot on Antiparasitic and Mosquitoes for Dogs 1,5 to 4 Kg Virbac
Effitix is a pipette that protects your dog for 4 weeks against the most important external parasites: sandflies, fleas, ticks and mosquitoes. Effitix is especially useful in leishmaniasis endemic areas, as it effectively prevents the bite of mosquitoes of the genus Phlebotomus, which are transmitters of the disease.

Advantages:
- Anti-drip pipette with easy opening and precise application.
- Eliminates and kills fleas and ticks
- Repels Phlebotomus mosquitoes, transmitters of leishmaniasis, and Culex and Aedes mosquitoes, transmitters of filarial disease

Application:
In dogs under 20 kg the pipette should be applied to them distributed in two parts.
It should not be used in dogs less than 12 weeks or 1.5 kg.

Instructions for use:
Apply monthly the corresponding presentation according to the weight of the animal.
1. Remove the pipette from the blister.
2. Hold the pipette in vertical position.
3. Gently tap the narrow part of the pipette to ensure that the content is in the body of the main part of the pipette.
4. Break the top of the pipette along the indicated line.
5. Separate the animal's fur until the skin is visible.
6. Place the tip of the pipette directly on the outer skin and squeeze lightly several times to empty its content in two or three different points along the animal, from the shoulder to the base of the tail.
Ingredients
Effitix Spot on Antiparasitic and Mosquitoes for Dogs 1,5 to 4 Kg Virbac
- Fipronil 61 mg/ml
- Permethrin 545 mg/ml
Features
Effitix Spot on Antiparasitic and Mosquitoes for Dogs 1,5 to 4 Kg Virbac
Reference

3597133067293

Brand

Virbac

Age

Adult, Senior, Junior

Insects and parasites

Flea, Ticks, Leishmaniasis Mosquitos, Leishmaniasis Mosquitos,

Dog Size

Small

Type of Components

Chemical

Special Cares

Antiparasitics, Leishmania

Units

4 Drops, 24 Drops

Power

16 W

Pet Weight

Between 1.5 and 4 Kg, , Between 1,5 and 4 Kg

Manufacturer

Virbac,ES 819,DECHRA VETERINARY PRODUCTS, S.L.U Tuset, 20 6ª Planta 8006, BARCELONA ,

Produits Français

Prescrição Veterinária

Farma OTC
Customer Reviews
Effitix Spot on Antiparasitic and Mosquitoes for Dogs 1,5 to 4 Kg Virbac