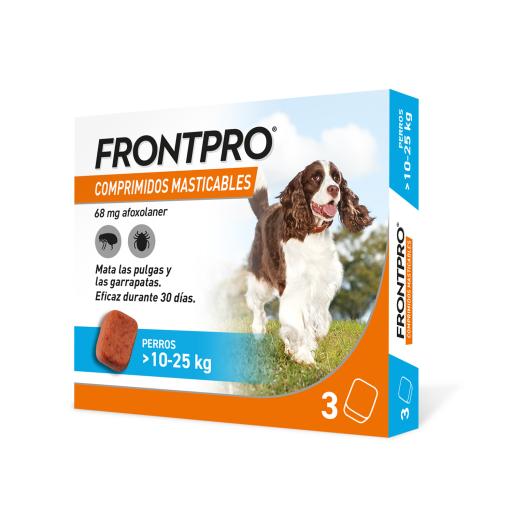 Description
Antiparasitic Dog Chews for Dogs from 10 to 25 kg Frontpro
FrontPro is a type of dog chewable treats that eliminates fleas and ticks.

- With just 1 tablet, you will enjoy 30 days of protection.
- Tasty and easy to administer
- Suitable for dogs weighing a minimum of 2kg
- Suitable for puppies from 8 weeks of age
- Can be given with or without food
How does FrontPro work?
It works by eliminating ticks within 48 hours. It also kills fleas before they lay their eggs and is effective for a whole month. You can bathe and soap him without any problem, as it will not affect the correct functioning of the anti-parasite snack.
Features
Antiparasitic Dog Chews for Dogs from 10 to 25 kg Frontpro
Reference

4064951003806

Weight

37 gr

Brand

Frontpro

Units

3 comprimidos
Documents
Customer Reviews
Antiparasitic Dog Chews for Dogs from 10 to 25 kg Frontpro