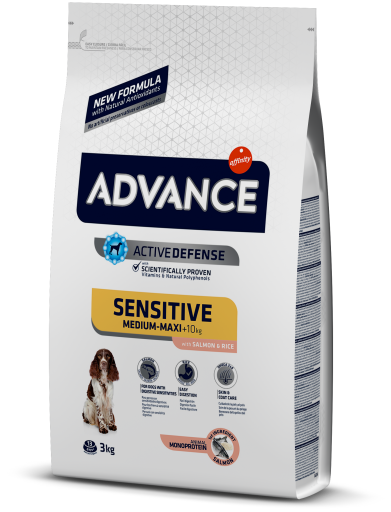 customer_also_bought_ani
Traveness

Traveness
Description
Medium-Maxi Adult Sensitive with Salmon & Rice Advance
High-end food especially suitable for adult dogs of all breeds with impaired protein from meat and other ingredients often associated with food sensitivity given its characteristics:
- Only fish protein: protein alternative source of meat and provides great palatability.
- Does not contain egg, soy and wheat gluten: Ingredients commonly associated with food sensitivity.
It protects cells from free radicals and helps improve the immune response.
Along with vitamins it helps delay cellular aging.
Encourage the growth of beneficial intestinal flora, increasing the absorption of nutrients and reducing odor of feces.
High quality protein to improve digestion for dogs with sensitive digestion and help maintain optimum intestinal health.
Source of carbohydrates easily assimilated for optimum digestion.
Special minerals that help prevent plaque formation and causes good breath.
Ingredients
Medium-Maxi Adult Sensitive with Salmon & Rice Advance
Salmon (18 %), corn, corn gluten meal, rice (14 %), dehydrated salmon protein, animal fat, protein hydrolyzate, yeast, beet pulp, Rapeseed meal, vegetable fiber, potas- sium chloride co, calcium carbonate , fructooligosaccharides, tetrasodium diphosphate, salt, natural polyphenols
Nutritional additives:
Vitamin A 27000 IU
1800 IU vitamin D3
Vitamin E 670 mg
Vitamin C (sodium and calcium salt of ascorbic monophosphate ) 500 mg
Taurine 1200 mg
Monohydrate 260 mg ferric sulfate (Fe : 85 mg)
1.9 mg potassium iodide (I : 1.4 mg)
Copper sulfate pentahydrate 34 mg (Cu : 8.8 mg)
Manganous sulphate monohydrate 124mg (Mn : 40 mg)
Zinc sulfate monohydrate 395mg (Zn : 144 mg)
0.24 mg sodium selenite (Se: 0.11 mg)
With antioxidants
Features
Medium-Maxi Adult Sensitive with Salmon & Rice Advance
Reference

8410650173559

Weight

800 GR, 15 Kg, 3 Kg, 12 KG

Brand

Advance

Units

1

Physical Activity

Average

Age

Adult

Flavor

Fish, Salmon, ,

Dog Size

Medium, Maxi, Giant

Special Cares

Hair and Skin, Digestive

Quantity

0,8 Kg, 3 Kg, 15 Kg, 12 Kg

Product Range

Advance Adult, ,

Made in

Spain

Manufacturer

Advance,ESP 08300105AFFINITY PETCARE S.A. Plaça Europa, 54-56, 08902 Hospitalet de Llobregat (Spain),

Producido en
Customer Reviews
Medium-Maxi Adult Sensitive with Salmon & Rice Advance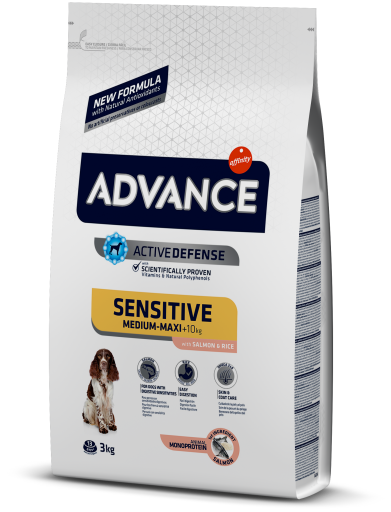 Ração equilibrada. boa digestão
A minha cadela gosta muito desta raçao, fica com o pelo muito macio