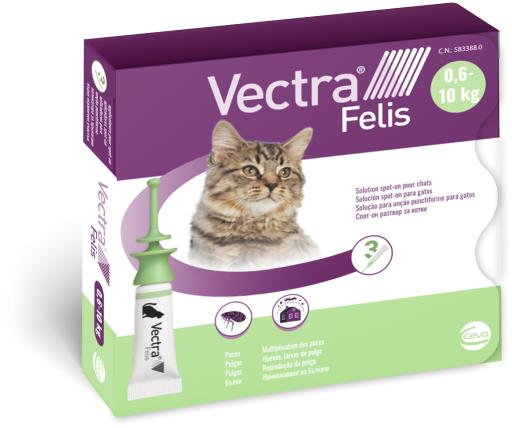 Description
Antiparasitic Pipettes for Cats Vectra
After revolutionizing the antiparasitic landscape with VECTRA® 3D, Ceva launches at the beginning of 2015 Vectra® Felis for cats and kittens, a pipette that eliminates fleas in just 2 hours.
Vectra® Felis is an external dewormer for cats and kittens containing dinotefuran as insecticide and pyriproxyfen as insect growth regulator (IGR).
Each dose of Vectra felis contains 423mg of dinotefuran and 42.3mg of pyriproxyfen.
It is applied to the cat's skin once a month. Its special applicator, patented by Ceva, allows a comfortable application, in a single point, avoiding injury to the cat's skin.
Vectra® Felis treats and prevents adult flea infestations for one month.
Fleas are killed within 2 hours after administration and also within 2 hours after reinfestations.
Vectra® Felis also contributes to flea population control: one administration prevents flea multiplication by inhibiting the appearance of new fleas in the environment for 3 months.
Vectra® Felis is recommended as part of the treatment strategy for flea allergy dermatitis in cats.
By protecting against adult fleas and their immature stages, Vectra® Felis contributes not only to the prevention of vector-borne diseases, but also to improving the quality of life of cats, kittens and their families.
It is available in a presentation with which you can treat kittens from 7 weeks of age and cats from 600gr weight up to 10kg.
Instructions for use:
Remove the blister packs from the cardboard box and separate a blister.
Remove the pipette or spot on-cutting with scissors or folding the dotted line backwards.
Separate the coat along the dorsal line of the dog or cat until the skin is visible, place the tip of the pipette on the skin and start spreading the product from the shoulder blade area to the middle of the back to prevent the animal from turning and licking. It is advisable not to put all the product in the same spot.
The product will seep into the skin of our animal and will make a protective layer.
IMPORTANT!
DO NOT use on cats or kittens weighing less than 0.6 kg or less than 7 weeks of age.
DO NOT use in cases of hypersensitivity to the active substances or to any of the excipients.
Composition: each 0.8ml pipette contains 44 mg dinotefuran, 3.9 mg pyriproxyfen and 317 mg permethrin.
Excipients: N-octyl-2-pyrrylidone and N-methylpyrrylidone.
Features
Antiparasitic Pipettes for Cats Vectra
Reference

3411112122622

Weight

50 GR, 100 gr, 60 GR

Color

Green

Brand

Vectra

Insects and parasites

Flea, ,

Type of Components

Chemical

Units

3 Drops

Pet Weight

,

Format
Documents
Customer Reviews
Antiparasitic Pipettes for Cats Vectra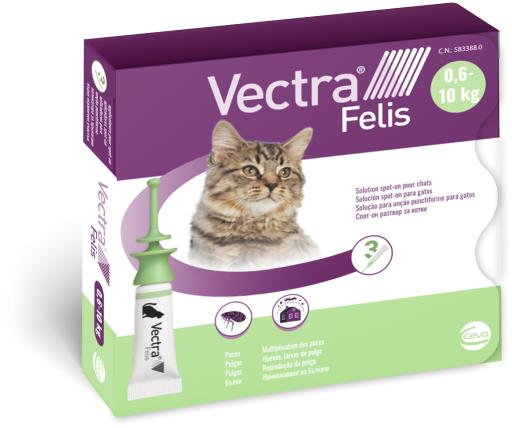 as melhores pipetas para gatos do mercado
Bien mais un tarif moins cher serait intressant . . .
Acho que so muito boas para a pulga visto que ainda no tm resistncias mas em termos de qualidade/preo as frontline combo so melhores porque do tambm para a carraa e so mais baratas