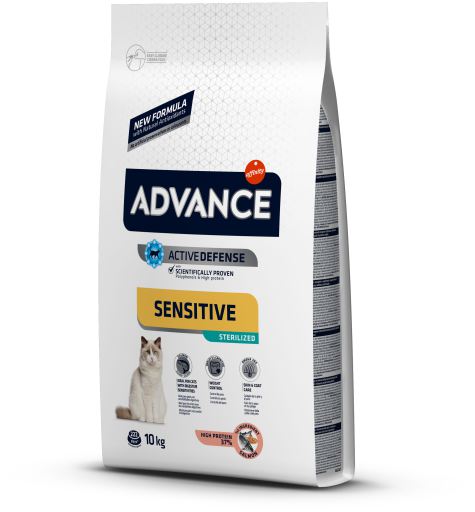 Description
Sterilized Sensitive Salmon and Barley Advance
Premium food indicated for sterilized cats that:
Helps prevent obesity in sterilized cats
: Through its reduced level of metabolizable energy, a high fiber content to promote satiety, high levels of proteins and moderate levels of fat to help maintain muscle mass.
Helps reduce the risk of urinary problems
: Facilitates an adequate pH, increases the level of sodium to increase water intake and diuresis, and provides glucosaminoglycans that help control the formation of urinary stones.
BENEFITS
ACTIVE IMMUNOGLOBULINS
Natural proteins that help maintain intestinal health.
HIGH PROTEIN PROTECTION
Provides the optimum level of proteins to help improve the immune response and develop the appropriate musculature.
NATURAL POLYPHENOLS
Help delay cellular aging together with vitamins.
L-CARNITINE
Helps transform fat into energy, promoting the reduction of the cat's fat deposits.
PROPER URINE PH AND GLYCAN GLUCOSAMINE
Aids in the proper function of the urinary tract and kidneys and supports good urinary bladder health.
PYROPHOSPHATES
Special minerals that help prevent the formation of tartar and promote fresh breath.
Ingredients
Sterilized Sensitive Salmon and Barley Advance
Salmon (15%)
Dehydrated Poultry Proteins
Wheat
Maize Gluten
Maize
Wheat Gluten
Dehydrated Pork Proteins
Barley (8%)
Pea Fiber
Hydrolysed Animal Proteins
Animal Fat
Yeast
Salt
Inulin
Dehydrated Egg
Potassium Chloride
Plasma Proteins
Potassium Citrate
Monocalcium Phosphate
Glucosamine
Chondroitin Sulfate
Natural Polyphenols.
Features
Sterilized Sensitive Salmon and Barley Advance
Reference

8410650218663

Weight

3 Kg, 400 GR, 10 KG, 1,5 Kg

Brand

Advance

Units

1

Age

Adult

Flavor

Fish, Salmon

Product Range

Advance sterilized,

Made in

Spain

Manufacturer

Advance,ESP 08300105AFFINITY PETCARE S.A. Plaça Europa, 54-56, 08902 Hospitalet de Llobregat (Spain)

Nutritional Conditions

Special Cares

Producido en
Customer Reviews
Sterilized Sensitive Salmon and Barley Advance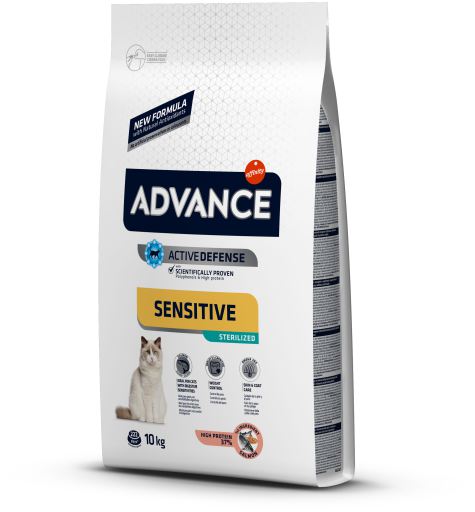 os meus gatos tambem gostam muito desra raçao
Tenho 5 gatos e eles adoram.