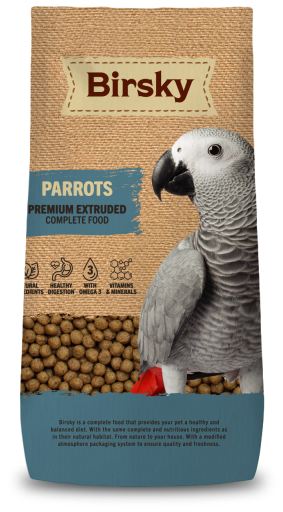 Description
Premium Extruded Parrots Birsky
Birsky Parrot Extruded provides a complete dehydrated food in the form of feed that contains all the nutrients the parrot needs: cereals, fruits, vegetables, vitamins and minerals.
Parrots are very fond of peeling seeds, so they can often be very selective with the foods we serve them and only select a few from their entire ration. With these behaviors they run the risk of ending up with food deficiencies due to the lack of variety. This is the main reason to offer feed from time to time, since here the parrot can not choose and thus we ensure that it is feeding in a balanced way.
BENEFITS:
- Fruit intake
- High oleic sunflower oil that will improve the quality of its plumage.
- Cereals such as rice will provide iron, amino acids and vitamins to the parrot's diet.
- Legumes such as peas and lentils will aid digestion and provide enzymes, vitamins and minerals.
- Soybean flour, also present in the composition, is a great source of fiber and protein.
INSTRUCTIONS FOR USE: Serve in the feeder as is, and always keep clean, fresh water available for the birds.
Ingredients
Premium Extruded Parrots Birsky
INGREDIENTS: Rice, Soya meal (NON-GMO), Apple pulp, Sunflower oil (high oleic), Peas, Lentils, Vegetable fibers, Linseed oil, Ground salt, Vitamin-mineral corrector. Natural antioxidant, DL methionine, L-threonine.
NUTRITIONAL CHARACTERISTICS:
ANALYTICAL COMPONENTS: Crude protein 18%, Crude fat 11%, Moisture 9.5%,Crude ash 8%, Crude fiber 5%. NUTRITIONAL ADDITIVES (per kg): (3a672a) Vitamin A (Retinyl acetate) 11,000 I.U., (3a671) Vitamin D3 (Cholecalciferol) 2500 I.U., (3a700) Vitamin E (all-rac-α-tocopheryl acetate) 250 mg, (3a711) Vitamin K3 (menadione, nicotinamine, bisulfite) 3 mg, (3a821) Vitamin B1 (thiamine mononitrate) 6. 5 mg, Vitamin B2 (Riboflavin) 20 mg, (3a841) Vitamin B5 (D-calcium pantothenate) 20 mg, (3a831) Vitamin B6 (pyridoxine hydrochloride) 8 mg, Vitamin B12 (cyanocobalamin) 100 mg, (3a300) Vitamin C (ascorbic acid) 400 mg, (3a314) Vitamin B3 Niacin (nicotinic acid) 100 mg, (3a316) Vitamin B9 (folic acid) 4 mg, (3b101) Iron (Iron (II) carbonate) 80 mg, (Cu, 3b405) Copper (Copper (II) sulfate pentahydrate) 17 mg, (3b502) Manganese (Manganese (II) oxide) 75 mg, (3b603) Zinc (Zinc Oxide) 50 mg, (3b203) Iodine (Calcium Iodate anhydrous granular coated) 1 mg, Selenium (Organic form of selenium produced by Saccharomyces cerevisiae CNCM I-3060) 0.2 mg.
MICROBIOLOGICAL CHARACTERISTICS: Salmonella (absence in 25g), Enterobacteriaceae (<4X104), E. coli (absence in 1g), Clostridium (<100 CFU/g), Total Aerobes (<105), Fungi (<105).
Features
Premium Extruded Parrots Birsky
Prevents picky eating

Source of fibre and protein

Made with natural ingredients

No added sugars
Reference

8436579243739

Weight

1 Kg, 2 KG, 4 KG, 500 GR

Bird Type

Lories

Brand

Birsky, Birsky, Birsky, Birsky

Format
Customer Reviews
Premium Extruded Parrots Birsky