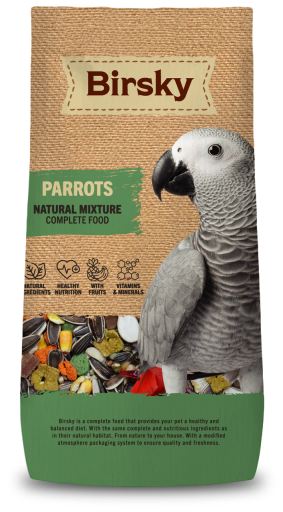 Description
Mixture Parrots Birsky
Birsky's Parrot Mixture is composed of a mixture of seeds, extruded and dehydrated fruits, all of them selected taking into account the nutrients that the parrot needs for its daily feeding.

BENEFITS:
- Vitamin D3, will provide a softer and shinier coat.
- Vitamin A, will contribute to improve its immune system.
- Vitamin C, will take care of the plumage. Very necessary in times of stress or in the youngest specimens.
- Dehydrated fruits, ideal for plumage coloration.
INSTRUCTIONS FOR USE: Serve in the feeder as is, and always keep clean and fresh water available for the birds.
Ingredients
Mixture Parrots Birsky
INGREDIENTS: Sunflower seeds, Extruded for parrots, Corn, Dehydrated banana, White sorghum, Red sorghum, Chopped carob, Green peas, Durum wheat, White sunflower seeds, Dehydrated papaya, Raisins, Dehydrated pineapple, Rose hip, Katjan idjoe, Pumpkin seeds, Buckwheat, Rice in shell, Chilli, Puffed corn.
NUTRITIONAL CHARACTERISTICS (per 100 g of product).
ANALYTICAL COMPONENTS: Crude fiber 7 g, Crude fat 11 g, Ash 2.7 g, Energy value 1685. KJ/400 kcal, Carbohydrates 66,1 g. Minerals Cu 3.60 mg/kg, Zn 14 mg/kg, Se 0.074 mg/kg, Mn 10.8 mg/kg, Ca 3412.4 mg/kg, Fe 26.9 mg/kg, I 0.53 mg/kg, P 2630 mg/kg. Vitamin A 7140 IU, Vitamin D3 156 IU, Vitamin E 36 mg/kg. Contains colorants.
Features
Mixture Parrots Birsky
Dehydrated seeds and fruits

With vitamin D3 for a healthy and shiny plumage.

Vitamin A for skin and mucous membrane protection

Sugar and GMO free
Reference

8436579243654

Weight

2,5 KG, 5 KG, 700 GR, 1,4 KG

Bird Type

Lories

Brand

Birsky, Birsky, Birsky, Birsky

Format
Customer Reviews
Mixture Parrots Birsky