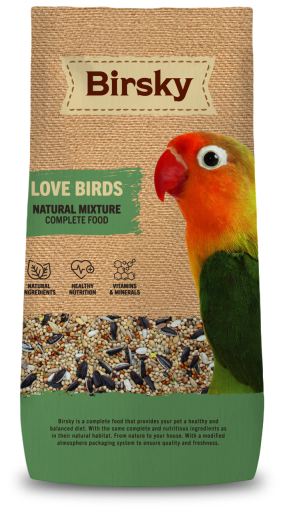 Description
Mixture Love Birds Birsky
Birsky's Agaporni Mixture is based on a mixture of seeds and cereals to satisfy their demands as granivorous birds.
This diet is composed of different types of white, yellow and red millet that provide them with an important source of carbohydrates, fiber, vitamins and minerals. The canaryseed will provide them with energy while the oats will help improve their digestive processes. This mixture also contains small sunflower seeds, safflower and barley, with a powerful antioxidant effect that improves their immune system.
BENEFITS:
- High digestibility
- Source of energy and protein
Great contribution of vitamins and minerals
- Natural ingredients
- No added sugars
- Free of GMO (genetically modified organisms)
INSTRUCTIONS FOR USE: Serve in the feeder as is, and always keep clean, fresh water available for the birds.
Ingredients
Mixture Love Birds Birsky
INGREDIENTS: Yellow millet, Small sunflower seed, Red millet, White millet, Canary seed, Peeled oats, Safflower, Barley, Black sunflower seed, Bakery product and pasta production, Hemp seed, Corn, Wheat, Tigernuts, Vegetable oil, Banana flavor.
NUTRITIONAL CHARACTERISTICS (per 100 g of product).
ANALYTICAL COMPONENTS: Carbohydrates 59.60%, Fat 13.70%, Protein 12.50%, Moisture 11.30%, Ash 2.90%, Potassium 0.415%, Magnesium 0.16%, Calcium 0.09%, Phosphorus 3700 mg / kg, Energy 411.9 Kcal / 1723 KJ.
MICROBIOLOGICAL CHARACTERISTICS: Salmonella (/ 25 g) Absence, Escherichia Coli (cfu/g) < 100.
CHEMICAL CHARACTERISTICS: Lead (mg/kg) < 10, Cadmium (mg/kg) < 1. ADDITIVES: Vitamin 1.36%. COLORANTS: E124, E122, E102, E131, E110.
Features
Mixture Love Birds Birsky
With selected variety of seeds and cereals

High in vitamins and minerals

Natural food

Free from sugars and GMO
Reference

8436579243616

Weight

800 GR, 3 Kg, 6 KG, 1,6 KG

Bird Type

Love Birds

Brand

Birsky, Birsky, Birsky, Birsky

Format
Customer Reviews
Mixture Love Birds Birsky